PRESS CONTACT:
Shaina Ostroff
Reach Public Relations
424-835-4229
shaina@reach-pr.com
Citrus Zinger Sport Adds a Healthy Twist to Fitness Hydration
Active Infusion Water Bottle Adds Fruit Nutrition without the Excess Sugar from Sports Drinks
Akron, OH – Zing Anything, the leading provider of Active infusion water bottles, offers a healthy alternative to sugary sports drinks: The Citrus Zinger Sport. A built-in citrus press allows consumers to squeeze the juice from lemons, limes, tangerines or clementines directly into the bottle, extracting more nutrients and flavor than other passive infusing methods.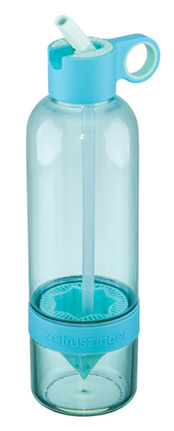 The eco-friendly, reusable 28oz BPA/EA-free bottle features a hands-free, flip-up straw and a finger hole for easy carrying. The bottom of the bottle also unscrews, making it easy to add ice and quickly chill the beverage. Whether it's being carried to a yoga class or clipped into a 10-speed mountain bike, the Citrus Zinger Sport offers added taste, convenience and versatility for workouts.
"In a marketplace packed with sports drinks that are filled with refined sugars, artificial flavors, preservatives and coloring, the Citrus Zinger Sport makes it easy for people to opt for a nutritional hydration choice made from all-natural ingredients. Adding lemon, for example, both enhances the water's flavor and gives it a boost of potassium and vitamin C, which can aid in weight loss, boost immunity, and serve as a natural energizer. Strawberries, ginger or cucumber can be added to the center of the bottle for additional health benefits and a unique flavor twist as well."
Designed in the USA and dishwasher safe, the Citrus Zinger Sport comes in a variety of colors and is sold online and at retailers nationwide for an SRP of $17.99. Click here to learn more about Zing Anything's complete lineup of flavor infusers, including the Citrus Zinger Infusion set, Citrus Zinger Biggie, Citrus Zinger Mini, Aqua Zinger, and Kid Zinger. Also available is a Salad, Tea and Vodka Zinger and a Zing 54 pitcher. A new line of sleek infusion bottles called Zingo Clear will be introduced soon as well.
About Zing Anything
Founded in 2012 and headquartered in Akron, OH, Zing Anything strives to create innovative and simple-to-use tools that harness the power of natural ingredients. By extracting the flavors and nutrients of ingredients and infusing them directly into the bottle, Zing Anything hopes to make it easy (and fun!) for consumers to move away from unhealthy beverage choices and discover the limitless possibilities that nature has to offer. For more information, visit www.ZingAnything.com and find @zinganything on Facebook, Twitter, and Pinterest.